If you are like the majority of British people then you have a subscription of some form or another.
There's no doubt that the subscription business model has taken the world by storm and now users can subscribe for almost anything from food to cars to razors and yes, to accountancy services.
With the UK subscription market estimated to be around £2bn per year, it's not hard to see that this is a lucrative area for businesses to get involved in.
So how do you get involved? And why should you?
In this post, we're discussing the issues with subscription services and what the benefits to businesses might be including;
What do we mean by 'subscription' services?
Types of subscriptions
The benefits of a subscription-based business
How to tell if it is right for your business
Why should you make the switch?
What do we mean by 'subscription' services?
A subscription service is any form of goods or services that you pay for with a regular payment.
The order is generally made once, but then payment continues monthly, quarterly or annually as long as the customer wants the service.
This is in contrast to the more conventional method of contracting and paying each time the service is delivered.
Types of subscriptions
Subscriptions type business models have been around for years.
Older readers may remember when the milkman delivered a regular pint or two every day and a loaf of bread on a Saturday or perhaps paying for a magazine on subscription.
But now the model has expanded into areas where we only ever used to pay as we went.
For example a regular food box delivery service or monthly delivery of razor blades.
The point is that that many companies have completely pivoted from a single transaction model to a monthly subscription and become more successful as a result.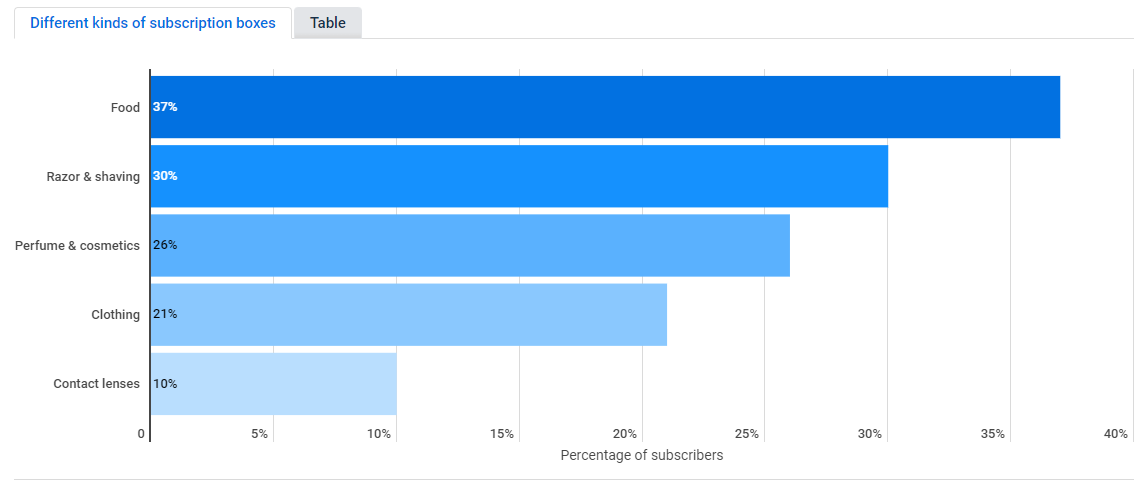 Source: https://www.finder.com/uk/subscription-service-statistics
Some of the subscriptions we have come across include;
Netflix
Amazon Prime
Graze snack boxes
Harry's razors
Socks and boxer shorts
Chef boxes
Chocolate
Boiler servicing
Car usage
Butchers
Fish
Farm food boxes
Cheese
Cat toys
Beauty boxes
Party boxes
In fact, you name it and there is probably a subscription service for it.
The benefits of a subscription-based business
With so many companies now adopting the subscription model you'd think that there were a huge number of benefits and you'd be right.
Predictable income
The business is able to forecast its cash flow much more easily
Lower customer churn
Once a payment authority is in, inertia takes over and you really have to upset people to lose them.
Predictable service usage
Whether it is a service-based subscription or a regular supply of goods, you know what you have to deliver well in advance which means less wastage.
Simple business model
No complex funding/sales/delivery models are required. People pay their subscription and they get their goods – easy!
Easier administration
If you have an automated payments system and integrate it into your operations and accounting system, all of a sudden you have a really simple business to run.
An easy company to fund
Funders need to know that you can cover the cost of any loans and with the predictable income stream from subscriptions that can be evidenced very simply.
An easy company to sell
If you are looking to exit your business then a company with a known and predictable income stream is an easy sell.
But the benefits aren't just on the side of the company.
One of the reasons that the system has caught on so quickly and become so widespread is that it makes sense for the customer too.
Customers know what their outgoings are going to be, they can easily understand the cost of their services and they can simply sign up and forget about it.
How to tell if it is right for your business
So how do you know whether a subscription is right for your business?
We'd say that it would be a rare business indeed that couldn't work out some form of subscription.
Fair enough if you are building power stations or digging up the roads it may not work but if you provide any form of regular goods or services then a subscription could be for you.
Remember that subscriptions work for businesses as diverse as farms, software designers and vintners so it is likely that you can fit into the model in some way.
You may find that a part of your business would work on a subscription basis and part would be better sold traditionally. If this is the case then you could use subscriptions as a way of upselling to higher value, more bespoke services or you could choose to hive off the subscriptions into a totally separate brand.
You could also ask your customers. Would they value the certainty that a subscription brings?
One word of warning here:- the subscription model works in an entirely different way from a cash flow point of view so don't just launch into it without running up some forecasts that will show your cash requirement.
For instance, this graph from For Entrepreneurs shows the typical hockey stick cash return for a SaaS company.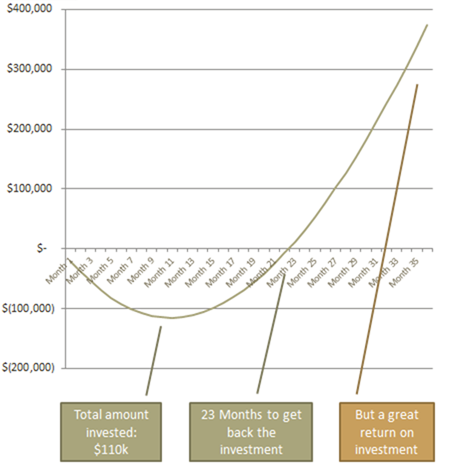 So you really do need to be certain that you can finance the move to a subscription model before committing any marketing funds towards it.
Why should you make the switch?
Making the switch to a subscription model has such a long list of benefits for both the customer and the company that it can often be a bit of a no-brainer.
Easier admin and better customer satisfaction are certainly a price worth paying for some short term pain.
But consider this; if you don't make the switch then your competitors might do and that kind of disruption could be disastrous for your business.
And even if your competitors don't bother, it is only a matter of time before a new entrant muscles in on your turf so you are better to get ahead of the curve rather than get swamped by a tidal wave of disruption.
Want to know more about subscriptions?
One of our specialities is working with customers who want to better understand what is the right model for their business and how they could go about making the change.
We'll help you understand the features, both good and bad and introduce you to some simple systems that could make it a whole lot easier.
Call us now and let's talk about how we can help you discover the benefits of a subscription-based business model.