If you own a professional services firm then you may have wondered whether Xero would be suitable for your needs.
Professional services companies are different from other businesses in the way they operate and of course how they account for their time.
This means that they need different things from their accounting software and some systems simply aren't up to it.
Xero is one of the market leaders, especially with SMEs and so it's natural to ask the question "Is Xero any good for professional services?".
In this article, we're looking at Xero to see what aspects make it supremely suitable for professional services.
In this post:
What is Xero?
What do professional services firms need?
How Xero copes
Summary
What is Xero?
Xero is one of the market-leading accounting platforms for SMEs.
Designed, built and delivered on the web, it is one of a new generation of systems that are able to take advantage of modern connectivity to deliver an excellent bookkeeping and accounting system using SaaS( Software as a Service).
It allows small business owners to send invoices, pay bills and even submit their VAT returns all online and all from the same platform.
This means that small businesses can transform their accounting from either a paper-based system or one with lots of interconnected apps into a capable, all-in-one solution.
The base system starts at only £10 per month which makes it easily affordable by even the smallest of professional services firms and more add ons can be bought as they are needed which increase its capability.
What do professional services firms need?
Professional services firms are different to other businesses.
It's highly unlikely they are going to need to hold stock or deliver physical goods to their customers, instead, they sell their time, either on an hourly or on a project basis.
Professional services cover a wide range of different occupations and can include doctors, lawyers, freelance marketers, teacher or technicians.
In fact, anyone who sells their time as a service rather than physical goods.
Many professional services firms are small in nature, being owner-managed and operated and a lot of our clients are the famed 'one-man-band' in that their company comprises of just them.
Whilst we are on the subject of companies, a professional services firm can be just a person trading on their own account, a partnership (typical for lawyers, architects and accountants) or a limited company.
This means that any particular professional services firms may need to;
Bill based on time spent on an hourly basis
Bill by project
Bill for work completed
Send invoices
Integrate with payment systems such as PayPal or Stripe
Pay bills
Track expenses
Track projects or workstreams
Run cash flow reports
Pay VAT
Submit self-assessment returns
Give their accountant access
This is just a short sample of all of the things that a professional services firm may need and it's fair to say that any system that is going to cope has to be a good one.
How Xero copes
Xero is a system aimed at SME's but with many of the features found in much more expensive systems.
But that doesn't mean to say it's complicated. The easy to use interface is very user friendly and designed to save you time.
Invoicing
Invoicing clients is incredibly simple in Xero and, due to the fact that it is fully mobile-enabled can be done from anywhere.
Professionals can invoice the client for a whole job, hours worked or part of a project, even when they are on-site using the simple and free mobile app.
Unlike other packages, there are no limits to the number of invoices that can be sent in a month.
Receive payments
Sending invoices is all very well but if you don't have a simple way of collecting payments then you could be in trouble.
Xero makes it easy to connect with your bank, meaning that direct payments from customers automatically populate in your accounts.
If you choose to use a third party payment service such as Stripe, PayPal or Wise, then Xero has integrations for these too. In fact, the Xero marketplace lists hundreds of different apps providing all types of different services.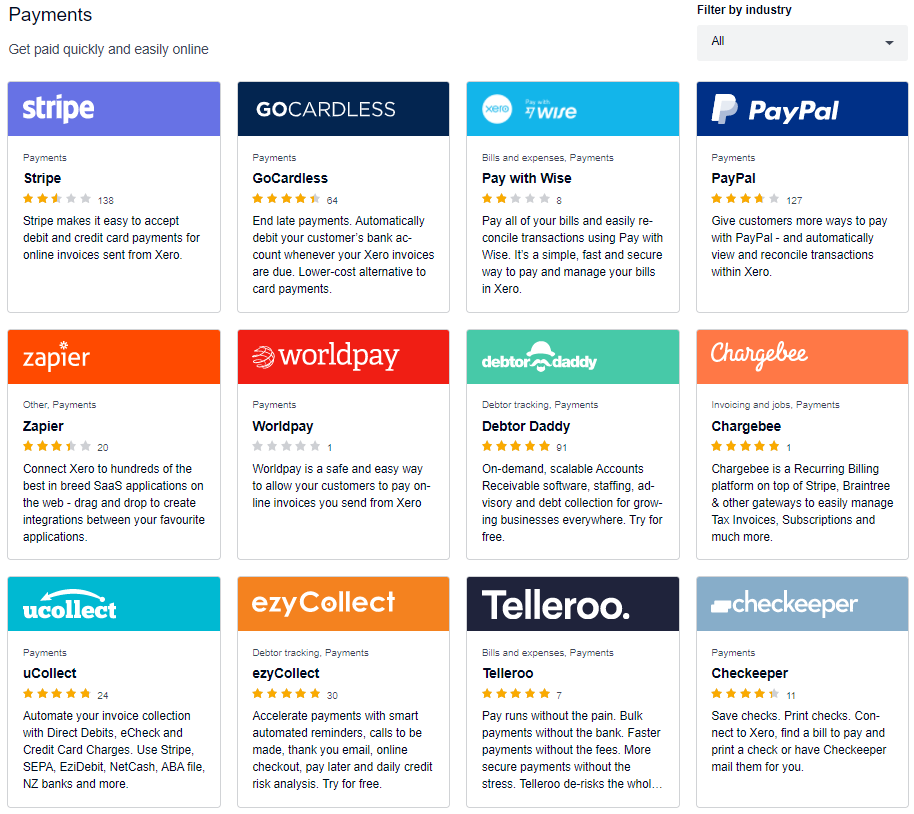 Pay bills
Integrated apps mean that paying suppliers is a simple matter. Services such as Wise can be used to make payments directly or you can pay manually from your bank account and send a remittance advice from Xero through email.
Again, the bank integration means that the payment will automatically populate in Xero through the bank feed.
The dashboard shows you where you are at all times and lets you know if you have any upcoming invoices you need to pay.
Project accounting
The project costing app does cost a little more (£ 5 pm) but when you consider the excellent functionality it makes perfect sense.
For professional services firms that cost and bill on a project basis, being able to track accurately all of the expenses and time that goes into each job is vital.
With Xero job costing you can set up as many projects as you need, monitor project budgets and costs, track time and see all work in progress, invoice for time and related bills and expenses, part invoice for waypoints and assign transactions, bills & credit notes to specific jobs.
One of the biggest benefits is that Xero has integrated accounting and reports which means that you can check profitability on any particular job and send your client expenses updates through the life of the project.
Submit VAT returns
MTD means that the majority of UK companies now have to submit their VAT returns electronically.
With Xero, this is a simple matter of connecting it to your HMRC account and then submitting it through the system.
No spreadsheets, no confusing calculations. Just click and submit.
Tracking expenses
Although professional services companies don't buy a lot of things, it is often the case that they do incur a lot of personal expenses.
Travelling to meet clients, hotel stays and meals while out all add up and instead of collecting hundreds of little receipts, you need a quick way of administering them.
Using the Xero app, users take a photo of the receipts or record their mileage and then OCR technology scans key information and auto-fills the claim.
The claim can be submitted with one click, with the receipt image attached.
Superb reporting
Xero has remarkably powerful reporting giving people complete visibility of their business.
It's possible to run the usual Profit and Loss statements (good for Self-assessment returns) and find out who owes money through the aged debtor listing.
But for professional services firms that sell by project, the reporting power means that project or service line profitability can be ascertained at the click of a button.
This means that you always stay in control of your business and can ensure that you are billing correctly for the work you do.
Summary
For busy professional services firms, Xero makes a lot of sense.
It is easy to use, has a great feature set and is remarkably affordable starting at only £10 per month.
The ability to connect and use the system anywhere is very useful for professionals that are always on the move and the reporting give you great control over your business.